Brunk Children's Museum of Immigration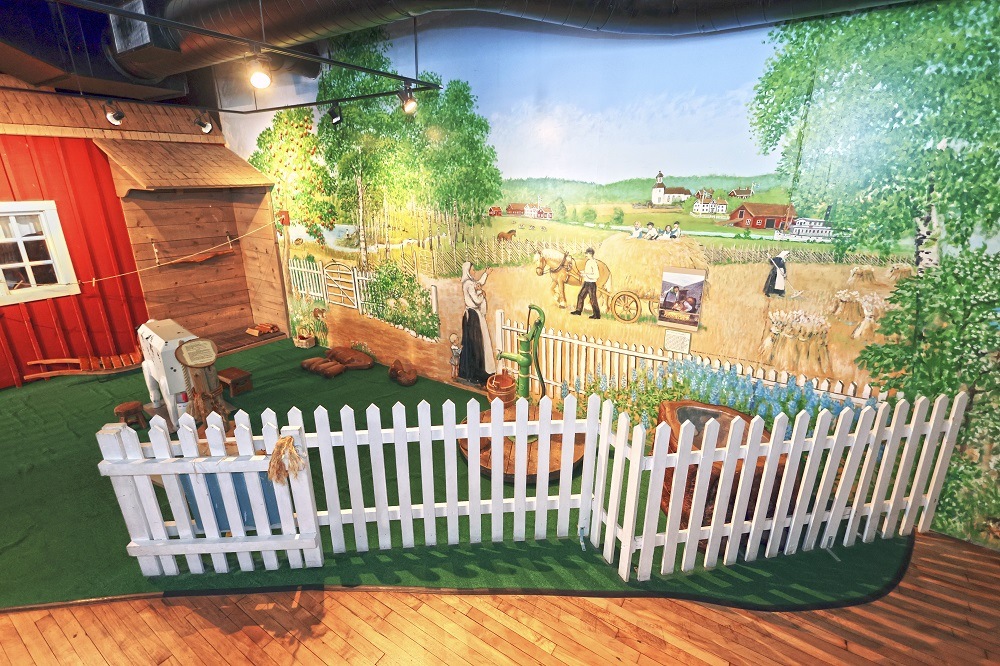 The Brunk Children's Museum of Immigration is a fully interactive exhibit that invites children and visitors of all ages to explore the 19th century immigration journey from Sweden to the United States. Our journey starts at a Swedish farmhouse and follows a path from the farm to a ticket booth, steamship, and finally to a log cabin in Minnesota. Visitors will learn about Swedish culture and history, and also about an immigration journey that parallels that of many other groups who made a new home in the United States during a time of immense growth and change. Many of the items in our museum are authentic artifacts that would be familiar to a Swedish immigrant in the 1800s. The exhibit also features a Viking ship and a space area dedicated to Swedish American astronaut Buzz Aldrin and the Apollo 11 moon landing.
Hours
Monday Closed
Tuesday-Thursday     1 p.m. – 4 p.m.
Friday    10 a.m. – 4 p.m.
Saturday & Sunday    11 a.m. – 4 p.m.
Please note that the interactive component of our Children's Museum is closed to the public Tuesday-Thursday mornings to accommodate school tours. If we do not have a school tour scheduled that day, visitors are welcome to visit our Children's Museum as a non-interactive exhibit.
Weekly, Monthly and Special Events
For the most current event schedule, please see our Events Calendar.
Hejsan!
Join us for our monthly storytelling and crafting hour on the last Thursday of every month at 2 p.m. This event is designed is designed especially for young children, but children of all ages are welcome. Hejsan! means Hello! in Swedish, and we welcome families to come say hi, listen to a story, and make a craft with our Children's Museum staff. This event is free with admission.
Weekly craft
Make a new craft every Tuesday-Friday at the museum! These themed crafts will teach about Sweden, Swedish American culture, and traditional crafting skills. Materials, instructions, and educational information will be provided free (with admission) for this self-guided experience.
Birthdays
Celebrate your child's birthday at the Swedish American Museum! Our Museum is available for private and semi-private parties. For more information, click here.
Family Events
We host numerous family events throughout the year, including themed pancake breakfasts, Midsommarfest, Family Fun Fest, workshops, summer camps, and our annual Breakfast with Tomten (Swedish Santa). Our events welcome both families who want to celebrate and connect with their own Swedish traditions as well as families who simply want to have fun and learn about Swedish culture in a welcoming atmosphere.
School Tours
Our Museum welcomes thousands of students every year for school tours. We can accommodate groups of up to 50 students from PreK through high school. Most of our tours focus on the immigration experience, but we can also tailor tours to your specific curriculum and educational needs. For more information about school tours, please click here.
Contact
For more information about our Children's Museum, events, birthdays, group visits, or school tours, please contact our Education Manager, Jack Rogalla, at jrogalla@samac.org, or give us a call at 773-728-8111. We would love to hear from you!

Artwork by Frida Willis
On display in the hallway outside the Children's Museum are four original paintings by Frida Willis, a Swedish artist who now lives in Northern California with her family. Three of the paintings are based on works by renowned Swedish children's author Elsa Beskow, and one depicts the character Karlsson-on-the-Roof from the Astrid Lindgren series. Frida began painting for her two young daughters, and as they got older, she became more active in her local education system, leading "art time" sessions at her daughters' schools and at local libraries. These programs, centered on Scandinavian literature, rapidly became an inspiration to Frida's work, such as in these four paintings in which she reinterprets illustraions from Swedish children's books. The works on display can be purchased from the Museum.