About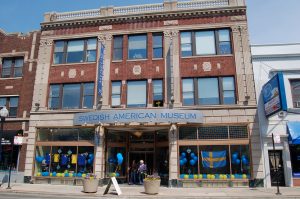 The Swedish American Museum has been active for over 40 years in the heart of Andersonville, a traditionally Swedish area on the north side of Chicago. Andersonville, the "Little Sweden" of Chicago, is one of the most concentrated areas of Swedish heritage in the United States, with Swedish roots dating back to the 19th century. Tourists visit the area continually to sample Swedish food, buy gifts, visit the Museum, and partake in traditional Swedish holidays such as Midsommar and Julmiddag.
Our 24,000 square-foot cultural museum features two gallery spaces with special art exhibits, "The Dream of America" exhibit, the Brunk Children's Museum of Immigration, a genealogy center and our Museum Store. All areas are wheelchair accessible. Contact the Museum at 773.728.8111 to reserve a guided tour for your group or click here  for more information about tours, parking and our hours of operation.
Download our most recent Annual Report for more information and learn more in our video by Paul Muhr:
Our Mission
Through its arts and educational programs and its permanent collection, the Swedish American Museum interprets the immigrant experience for children and adults and promotes an appreciation of contemporary Swedish-American culture.
Our Vision Statement
To be the preeminent Swedish-American immigration museum in the greater Chicago area and a unifying force within the Midwestern Scandinavian community.
Our Core Values
Celebrate Swedish culture, customs and traditions
Honor the Swedish immigration experience
Recognize contributions of volunteers and supporters
Foster collaboration with the broader community