Genealogy
Genealogy Research during Covid-19 pandemic
As many of us are stuck at home, we are finding new things to keep our days busy and meaningful. This is an excellent time to be doing some family research. Our Genealogy Society is here to help you if you are stuck and don't know how to continue, if you have papers that need translation or if you need help to get started. In-person research has now been replaced by Zoom meetings. To set up an appointment (they are more flexible than the hours listed below) please email genealogy@samac.org or fill out the form below.
Genealogy Presentations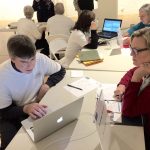 The newly updated Swedish American Genealogical Society hosts presentations from 10 a.m. to noon the fourth Saturday of the month (exceptions may apply due to holidays, availability of speaker). Check the Museum calendar for the most updated information. These presentations are free to members of the Museum's Genealogical Society. Non-members pay $10 per presentation. Payment is accepted at the door.
---
Genealogy Research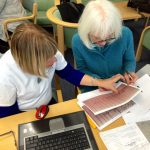 Individual research times are available and staffed by members of the Genealogical Society:
Wednesday
Noon – 1 p.m.
1 p.m. – 2 p.m.
2 p.m. – 3 p.m.
Saturday
1 p.m. – 2 p.m.
2 p.m. – 3 p.m.
Cost
Genealogical Society members: No fee for first hour; $10 for each additional hour on the same day.
Museum member only: $10 for first hour and $30 for each additional hour on the same day.
Non-member: $30 fee for each hour
Once you have had your initial consultation you can make a payment online Click here to signup.
Please call the Museum at 773.728.8111 or e-mail genealogy@samac.org to make an appointment. Individuals with appointments have priority over walk-ins.
Please fill out a genealogy research request form below if you are unable to attend an in-person genealogy research session.
Based on the information you provide, we will research using the resources available at the Genealogy Center. Information might be available within three weeks. If we are unable to assist you, we will try to refer you to other possible sources.