Christmas at the Museum 2023

Got Glögg?
Friday, Nov. 17, 7 p.m.
Glögg, mulled wine, is a vital part of the Christmas season for Swedes. Join us for a fun competition to see who really has the best glögg in Chicago! Tasters can purchase tickets on the Museum website or at the Museum. Admission is $25 and includes sandwiches and samples from all our competing glögg masters. Prepaid and confirmed tickets are required and no refunds available for cancellations within 5 days of event. 
---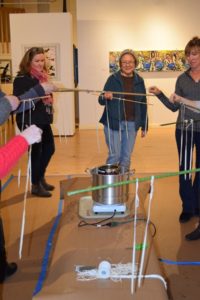 Candle Making and Holiday Crafts
Tuesday, Nov. 28, 6 p.m.
Come and make your own hand-dipped candle, it's a fun part of making Christmas crafts at the Museum. While the candles are drying we make other Swedish decorations. Hopefully we will have time for a special treat as well. Come prepared with a pair of scissors. Coffee and sandwiches are served.
This event is for adults and children 12 and over. Buy your tickets here.
---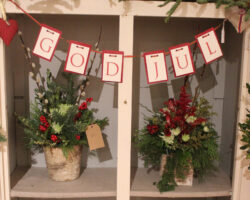 Late Night Andersonville
Friday, Dec. 1, 4 p.m. – 8 p.m.
Friday, Dec. 15, 4 p.m. – 8 p.m.
Are you procrastinator when it comes to holiday shopping? Are you at your most productive when the stress of quickly approaching holiday is giving you a little extra motivation? Then join us for Late Night Andersonville when our store stays open late and have special sale offers. Some of the Julmarknad vendors will be set up in the afternoon on Friday, Dec. 1.
---

Julmarknad
Saturday, Dec. 2, 10 a.m. – 5 p.m.
Sunday, Dec. 3, 10 a.m. – 4 p.m.
Julmarknad is the Museum's annual Christmas Bazaar, where traditional Scandinavian and modern handicrafts will be available for purchase. Visit the Children's Museum for crafts, games and a special visit from Santa. It is entertainment for the whole family and includes kaffestuga, Lucia processions and folk dancers.
---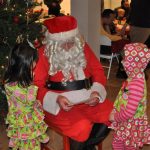 Breakfast with Tomten (Santa)
Saturday, Dec. 9, 9 a.m. Tickets can be found here
Sunday, Dec. 10, 9 a.m. Tickets can be found here
One of our most popular family event of the year! Join us on either Saturday or Sunday for a Swedish pancake breakfast with traditional crafts, a special visit from Tomten, and more.
The event will begin at 9 a.m. and conclude at approximately 11 a.m. It is recommended that you arrive as close to 9 a.m. as possible in order to ensure that your party will be seated together. Please note that this event follows a schedule and is not a drop-in breakfast. The morning begins with crafts for family enjoyment with breakfast being served at approximately 9:30 a.m. Other activities, including visits with Tomten, will follow breakfast. Late arrivals are not guaranteed breakfast and parties may be seated separately.
---

St. Lucia and the Lucia Procession
Watch the CBS 2 Chicago news coverage from 2021 here
Wednesday, Dec. 13
4:45 p.m. procession from the Swedish American Museum to the Catalpa (between Clark and Ashland)
5 p.m. Performance at Catalpa Ave.
7 p.m. Performance at Ebenezer Lutheran Church
Celebrate St. Lucia Day with Lucia candidates representing Swedish-American organizations throughout the Chicago area. This year we will meet in Andersonville for a procession up Clark street and an outdoor performance by the Christmas tree on Catalpa Ave. We end the day at Ebenezer Lutheran Church, 1650 W. Foster Ave., with holiday songs, readings and a final St. Lucia procession. .
If you are interested in taking part in the procession please click here.
---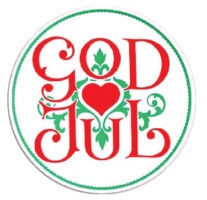 Julgudstjänst
Sunday, Dec. 17, 4 p.m.
Join us for a traditional Swedish Christmas church service at Ebenezer Lutheran Church, 1650 W. Foster Ave., led in Swedish.
---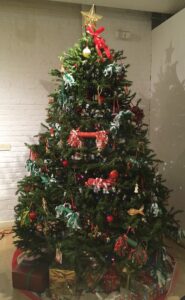 Julmiddag
Sunday, Dec. 17, 5 p.m.
A festive and traditional Swedish Christmas Smörgåsbord will be catered by Tre Kronor. Tomten (Santa) will be on hand to give julklappar (presents) to all the children. There will be a Lucia procession and everyone is welcome to dance around the Christmas tree. Tickets can be bought here.
The Swedish American Museum wishes you all a
GOD JUL
och
GOTT NYTT ÅR!